520V/54V/64V Series | Vertical Grinders for use with Depressed Center Wheels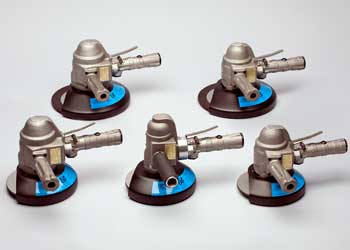 Vertical grinders with type 27 and 28 wheels are great for applications where the blending and smoothing are at their most important. From foundries, shipyards, and fabrication shops all over the globe, Top Cat vertical grinders have been very well received due to their extreme reliability in even the worst of conditions. Interchangeability of parts (cylinders, endplates, rotor vanes, bearings and many other parts) with other Top Cat tools cuts down on your spare parts inventory.
Download Catalog Section for more Information

Quick Order Number

Guard Size

Throttle Handle Type

Standard

Safety

520VXL;727

520VXK;727

7 in

8000 RPM

2 HP
(1500 W)

6.7 lb
(3 kg)

20 CFM Free
(11.8 L/s)

40 CFM Max
(16.5 L/s)

54VL;727

54VK;727

3 HP
(2250 W)

8.8 lb
(3.9 kg)

25 CFM Free
(11.8 L/s)

60 CFM Max
(28.3 L/s)

54VL;927

54VK;927

9 in

6000 RPM

64VL;727

64VL;727

7 in

8000 RPM

4 HP
(3000 W)

11 lb
(5 kg)

25 CFM Free
(11.8 L/s)

75 CFM Max
(35.3 L/s)

64VL;927

64VL;927

9 in

6000 RPM
This chart has been provided as a means to quickly identify a particular tool. The ordering numbers listed represent the most common versions of our tools. If more specialized versions are required, please build your model number per the catalog section page model number flow chart.