510V/520V/56 Series | Vertical Sanders for use with Sanding Discs & Surface Conditioning Pads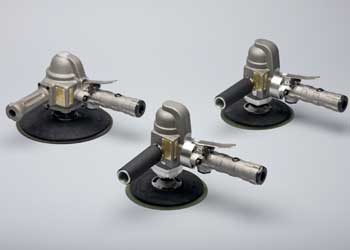 Vertical sanders are the perfect choice for your surface finishing jobs. We utilize governing (in the case of the 520, 56 and 66 series tools) and gearing (in the case of the 510 series tools) to maintain maximum torque. These tools have become a mainstay in shipyards and fabrication shops all over the globe due to their extreme reliability in even the worst of conditions. Interchangeability of parts (cylinders, endplates, rotor vanes, bearings and many other parts) with other Top Cat tools cuts down on your spare parts inventory.
Download Catalog Section for more Information

Quick Order Number

Sanding Pad Size

Throttle Handle Type

Standard

Safety

520VL;7SP

520VK;7SP

7 in

8000 RPM

2 HP
(1500 W)

6.7 lb
(3 kg)

20 CFM Free
(11.8 L/s)

40 CFM Max
(18.9 L/s)

56SL;9SP

56SK;9SP

9 in

6000 RPM

3 HP
(2250 W)

7.9 lb
(3.6 kg)

25 CFM Free
(11.8 L/s)

60 CFM Max
(35.3 L/s)
This chart has been provided as a means to quickly identify a particular tool. The ordering numbers listed represent the most common versions of our tools. If more specialized versions are required, please build your model number per the catalog section page model number flow chart.